Anne and Jeff Miller's 19ft 1949 AeroCraft JCC
| | |
| --- | --- |
| Date: | 2013-07-24 13:25:35 |
| City: | Solon |
| State: | IA |
| Serial: | JCC5854 |
My wife and I discovered this boat and after finding it was up for sale we contacted the owner and purchased it.

It needs lots of attention and hasn't seen water (besides rain) for 8 years.

The previous owner had compiled lots (box full) of information (brochures, photos, letters, etc.) which was included with the boat. Along with a round knife, match book and a AeroCraft Rolex Lighter.

Once we get it cleaned up we'd love to submit a few photos for your wonderful AeroCraft page.

Thanks again for all the effort and hard work making up this web page. We love it and did lots of research using this site before our purchase.

---
---
| | |
| --- | --- |
| Date: | 2013-09-10 18:21:56 |
New photos:

I think my wife fell more in love with the boat from the get-go than me, however we both think it's great!

---
---
| | |
| --- | --- |
| Date: | 2013-09-18 22:04:08 |
Phil
Here's a few photos for your web page.
Have a great weekend.
Jeff Miller

---
---
October 15th, 2013, 10:14 AM

Greetings from Iowa

Here's our 1949 AeroCraft JCC Deluxe.

Getting ready for a full restoration.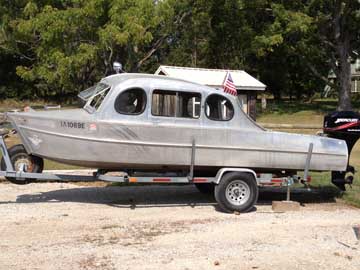 ---
---
| | |
| --- | --- |
| Date: | 2015-03-24 18:23:53 |
The JCC 'Deluxe included wood paneling and a flag holder on the back
of the cabin. Attached are some interior photo's of replacing some
backer/furring boards for the paneling. They are riveted on using
washers. One more thing included with the deluxe package was an
interior dome light. The one pictured is original.

Jeff

---
---
| | |
| --- | --- |
| Date: | 2015-05-01 14:39:33 |
Here are a few photos of the all most completed interior on our AeroCraft. Originally Mahogany was used on the interior but we opted to use Baltic Birch.
After installing some new furring strips ( which were riveted to the cabin walls), I also installed insulation in between the strips on the ceiling.
It was much more time consuming than I ever could have imagined, but the finished product was well worth the countless hours of cardboard templates, scribing , measuring and numerous trips in and out the 4 foot high door.
Regards,
Jeff Miller
---
---
Owners' copyrights apply to all images.
Return to AeroCraft boats home page