Jeff Hogue's 14ft 1958 AeroCraft JA
March 21st, 2010 06:56 PM #18
tinkertinker

Talking New to me - 1958 Aerocraft

Here she is.
Apparently anodized yellow on the deck and seatbacks, blue or purple elsewhere?

Soft nose, curved hips. Lovely! Original ( I think) electric start Evinrude 35hp outboard.

---
---
---
---
tinker_tinker
Date: November 14th
1958 Aerocraft (my pre-FC tin boat)


I picked this Aerocraft up just about two months before I found my
Hawk. She actually is a nice boat. Not as rigid as the FC, but a bit
wider and softer.

Haven't seen a lot of pics of this model, so I thought I'd share. Not
sure what I'm going to do with it yet. The motor is on another boat,
and it is upside down in the yard.

Notice that it was gold and blue anodized. The color under the
spotlight was its original color.
================
tinker_tinker
Date: November 16th

I was eyeballing it by the side of the road for months. I just knew
that guy didn't know it was special. It sat propped up at a 45 degree
angle for about a year with the motor in the mud.

One day, I saw a wee little for sale sign on it and almost drove off
the road.

It had 3 unregistered "owners" in the last 5 years, but I took a
gamble and found the last real owner. I used the title issues to get
the price down to around $300.... it really was a gamble.

The 1957 35hp motor was original, but I sold it to a very close friend
with a lovely vintage penn yan, so I'm ok with that.

I assume you've found the tiny bit of Aerocraft history that is out
there... but I know nothing about the history of my particular boat.

---
---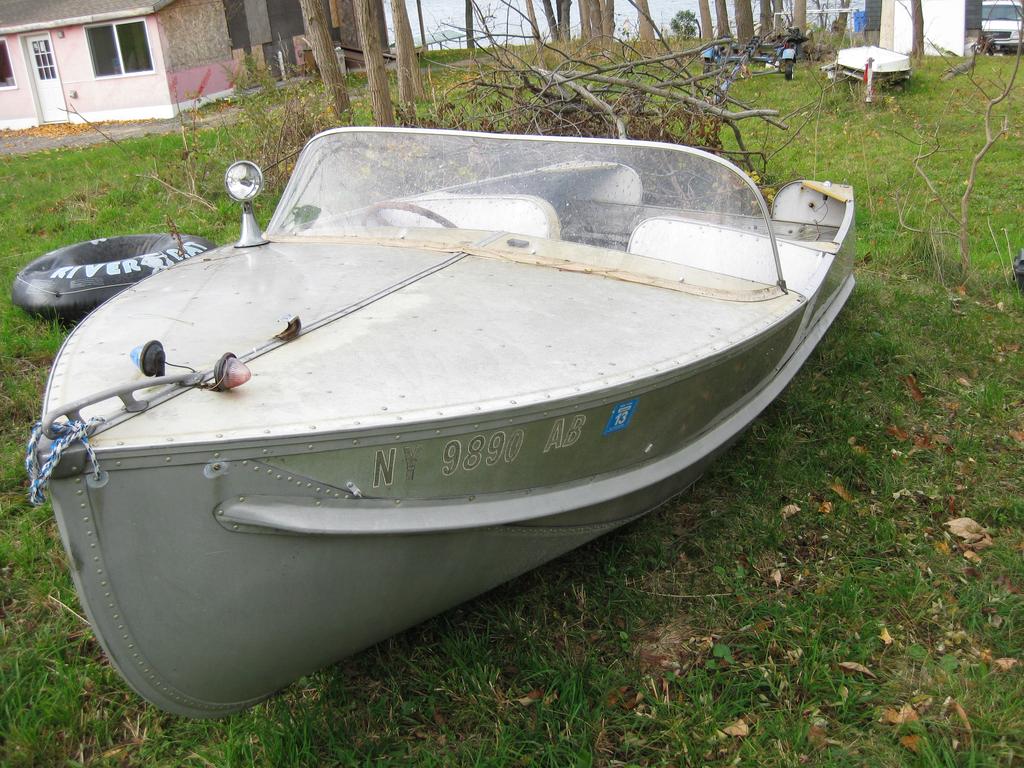 ---
---
For sale as of 4/3/2011

---
---
Owners' copyrights apply to all images.