15ft 1960 AeroCraft
1960 Aerocraft 15 ft. with steer column - $1500 (Dubuque) - Dubuque IA

Dubuque IA ...1960 areocraft v bottom boat steer column 1982 25 horse
evinrude motor white leather seats trailer and cover included seats
... craigslist - 2010/10/13

vintage boat new interrior 1960 areocraft v bottom boat steer column
1982 25 horse evinrude motor white leather seats trailer and cover
included seats 5 must sell! ...

location: dubuque

it's not ok to contact this poster with services or other commercial
interests

================

Dubuque County Registry: 1960 15ft Aerocraft serial #27404.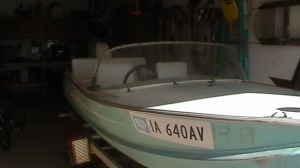 ---
---

---
---
Owners' copyrights apply to all images.