Lee Holland's 12ft 1947? AeroCraft AD
From Peter Hunn's Book:
Tail Fins and Two-Tones: The Guide to America's Classic Fiberglass and Aluminum Runabouts
Caption reads: This late 1940's model "AD" is [the] deluxe version of the firm's cornerstone 12-foot rowboat. Add a period 10-hp Mercury Lightning and you've got the makings of an official American Power Boat Association Class "BU" stock outboard utility racer. Fit her with the classic 5.4-hp, four-cylinder Evinrude Zephyr fishing motor she's wearing here and this Aero-Craft can't be beat for trolling.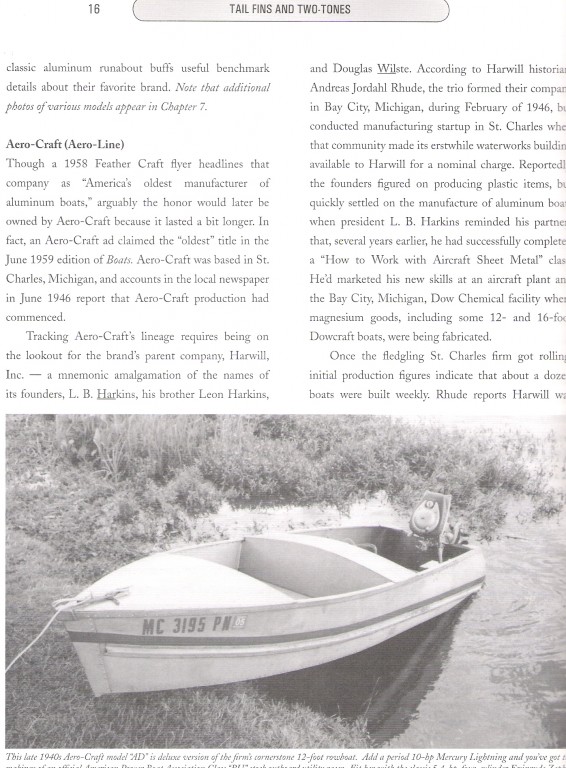 ---
---
| | |
| --- | --- |
| Date: | 2013-01-22 15:45:42 |
From page 18 of the October 2012 issue of the AOMCI "Antique Outboarder"
with pictures from the Constantine meet.

The caption reads "Lee Holland saying goodbye at the end of the meet..."

(scanned by Phil Budne)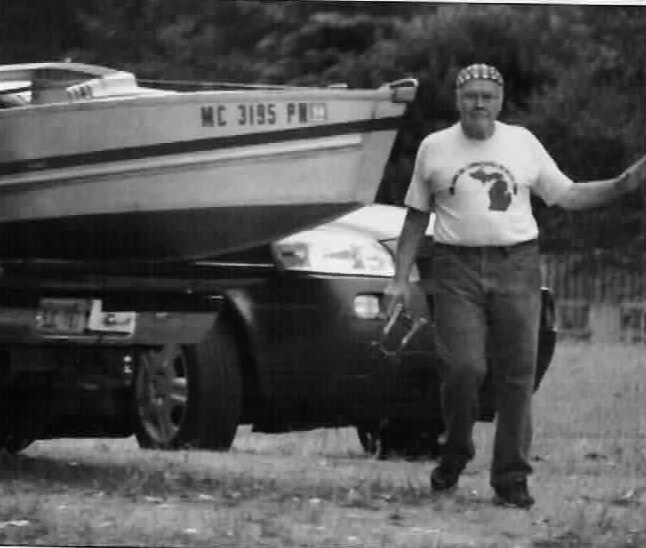 ---
---
| | |
| --- | --- |
| Date: | 2014-08-03 16:08:30 |
Here are a few pictures of Lee Holland's boat at the 2014 Tomahawk AOMCI meet. It's the one in Peter Hunn's book. I included the Serial plate -- not sure if you can confirm from that what year it is. I heard that Lee had sold the boat to someone at Tomahawk but I can't confirm that.

---
---
Owners' copyrights apply to all images.