John Ready's 1947 AeroCraft JCC
Aero Craft JCC Cabin Cruiser 1947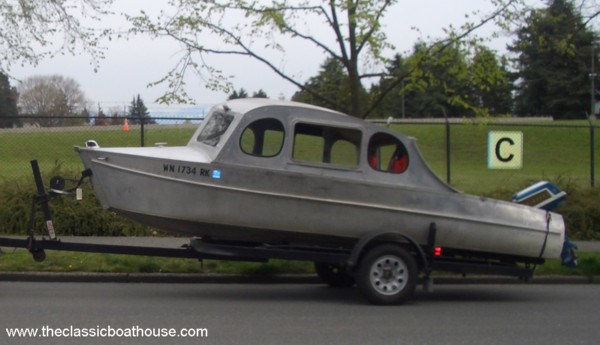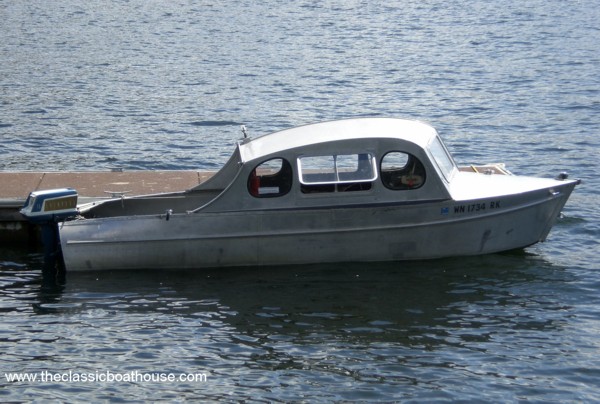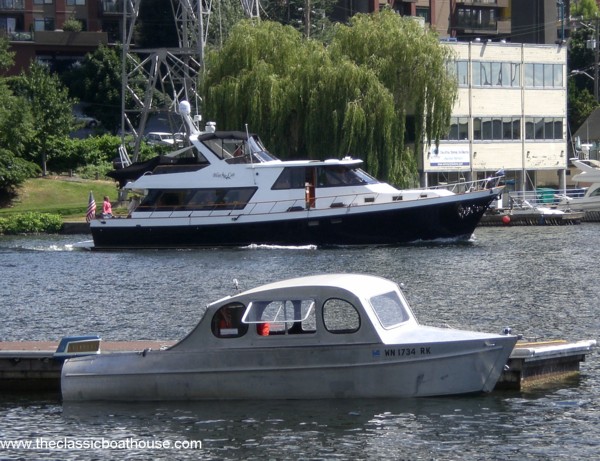 ---
---
By zebulonjohn
1947 AeroCraft
18 horse Evinrude (1959, a modern motor by comparison)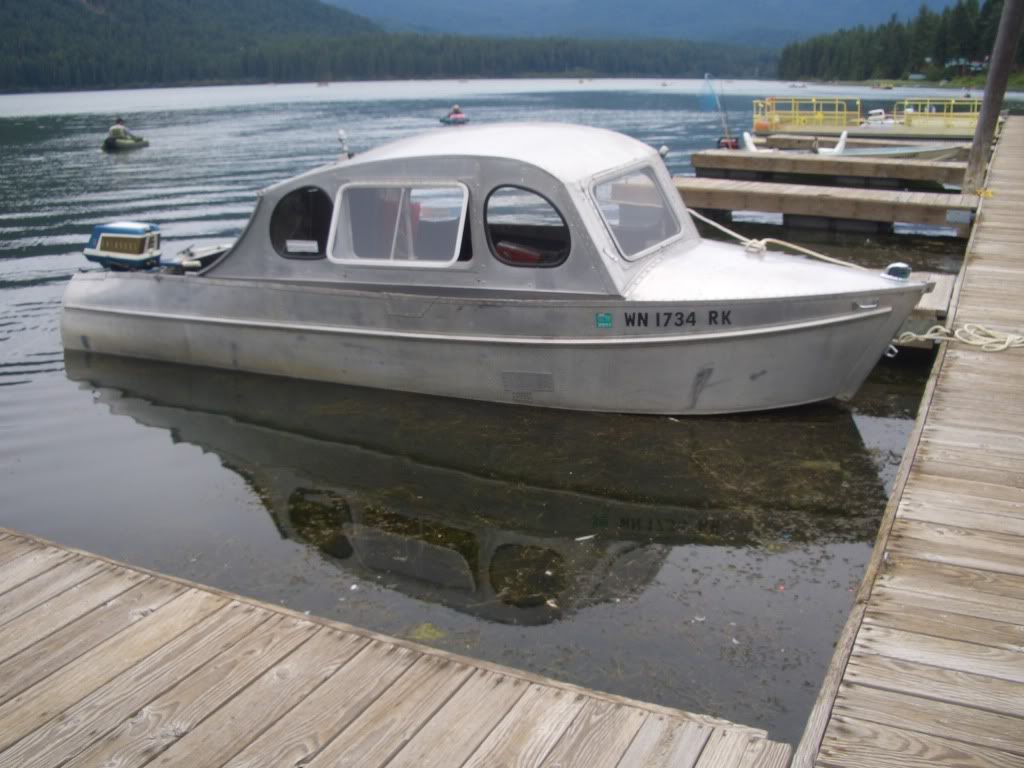 ---
---
Zebulonjohn
post Jan 25 2011, 11:07 PM

I own and operate a 1947 JCC 18 foot Aerocraft. Pretty neat boat, I have a 18 horse 1959 Evinrude Golden Jubilee 50th Anniversary engine on it.

I have acquired a 1962 40 horse Evinrude, and plan on switching back and forth between the motors. That 40 horse ought to make this 700 pound boat fly.

I am operating the engines using NON ETHANOL fuel. We have a local distributor (he also delivers to the local airport, hence no ethanol), who does not adulterate the fuel with ethanol (alcohol).

If you are not tuned in: Ethanol eats your hoses, absorbs moisture, phase separates, and ruins old boat engines (seizes them up if the fuel separates). It will leave you stranded.

I will make the 40 horse ethanol compatible this summer. The 18 is done (carb kit, hoses, o-rings on the pressure tank).

---
---
On Lake Chelan, WA
July 2012

1947 Aero Craft 18 foot JCC (Junior Cabin Cruiser), one of the first fifty made, constructed of WWII surplus aircraft aluminum. Powered by a 1959 18 Horse Evinrude Golden Jubilee 50th Anniversary Fastwin engine with pressure fuel tank. The boat weighs about 700 pounds empty. We put in at 25 mile on Lake Chelan, loaded with camping gear, and went 12 miles up to Graham Harbor into a 20 mph headwind, large waves, rollers and spray, with green water breaking over the bow. Weather improved dramatically as soon as we arrived. The three of us camped out in 90 degree weather and returned two days later on a calm, wind free day. Caught no fish, ate and drank like kings. These boats are uncommon, not many of them survive. Mine is in good condition, wear and tear consistent with sixty five years of use. It does not leak, but requires a few hours of maintenance every year, just like any other boat. I would guess it has at least a thousand rivets on it. The guys at the Center for Wooden Boats get a kick out of it, even though it has no wood to speak of.



---
---
On Lake Union, Seattle with 1962 Evinrude 40 Horsepower "Big Twin"
August 2013
Final Testing of "new" motor after carb rebuild, replacing diaphragm in fuel pump and vacuum switch, new ethanol proof hoses, new impeller, new magnetos and spark plugs. I installed a tiller handle; steering, throttle and gearbox work in the cabin, too. Engine is set up with starter and generator systems. Still has rope starter, started in two pulls.
---
---
Zebulonjohn
Joined: 25-January 11
Member No.: 9,464
Posts: 2

Jan 26 2011, 12:48 AM
Post #5

I love my boat, and have learned how to rivet the hull. The problem has been that the aluminum sheet is 1001, very hard, and the extruded chines and stringers are a slightly different compound. Over the years, galvanic corrosion had reared its ugly head and wasted a lot of the extruded parts.

My boat came with a brass plaque, says Aerocraft. I found out that brass reacts with aluminum and causes the aluminum to rot. I painted the back of my plaque with zinc chromate, to kill the electro galvanic reaction.

I have done the same with all the new pieces I have put it. Rivets are easy to come by (Aircraft Spruce carries them in the 1001 compound). I have used 6061 for replacement parts, but am using a lot of zinc chromate on both surfaces. I use some stainless fasteners, and coat them with anti seize.

Bucking rivets is not that hard, you can get the tools from Aircraft Spruce. I use a cheap Harbor Freight air hammer, since this is not an airplane, it is not as critical to do it to airframe standards.

After drilling out the old rivets, the hard part is getting the holes in the replacement piece drilled exactly. I have used Cleco pliers and Cleco temporary fasteners, and marked and drilled the new piece. It is a little tedious, but when you are ready to rivet and get a pal to help with the bucking, you can do sixty rivets in no time. Four seconds each.

As to value, my boat is a first year of manufacture, rare craft, from early post war aluminum, and I wouldn't let it go for less than $4,000, with motor and trailer. Will probably ask more if I ever decide to sell it (not likely soon). It keeps appreciating, as people have begun to see these as collectible craft. I saw one sell on Ebay for $5k a couple years ago, no motor.

It is well sorted out, dependable, unique and a joy to operate. You have a nice boat there, and know it's history well. I found mine and bought it for twice scrap value over ten years ago. Now that aluminum is 80 cents a pound, I made out all right...

Every year on Opening Day in Seattle the vintage wooden boat crowd is aghast when I arrive aboard the Aerocraft. I say there is plenty of room on the water for all of us, wood, glass or metal.

---
---
Owners' copyrights apply to all images.