12ft AeroCraft G?
12ft. Aero Craft flat bottom Jon boat - $200 (Thorntown)

Date: 2011-03-01, 7:10PM EST

I have a 12 foot flat bottom Aero Craft jon. It is a 12 foot jon with a patch on bottom that does not leak. The patch is plate aluminum with hammer rivets, then cold welded.

I am asking $200. It is very solid and would make a great, long lasting, inexpensive boat. It looks rough in the pic, but its just due to sitting under a tree. It is in very good condition.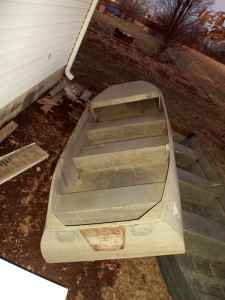 ---
---
Owners' copyrights apply to all images.