17ft 1970 AeroCraft Coho
[NOTE: logo first seen in in 1968 catalog]

I have been looking for a aluminum boat for a while I got this off CL this week and i'm about to get to work. It has a few issues it will need new floor and transom and seats. But the one thing im worried about is a small hole in the hull should I get it welded or is it best to not heat the area and use epoxy instead? Here are some pictures:

---
---
April 26th, 2011 02:15 AM

I got into the floor and found it was poured in foam from the factory. I think I'll have to use this again as my hull seems to have less supports than say a StarCraft and it seems the foam makes the boat more solid. Am I right on this? The poured in foam is pricey.

---
---
May 3rd, 2011 01:29 AM

Been working on the boat some more got the rotten transom out and 99% of the old poured in foam what a mess.I have some aluma-rust on the transom its not to bad but there are a few holes i bought some marine tex epoxy for those. Only 1 hole in the bottom but there is some pitting do i prime it with Zinc primer or just hit it with the Gluvit unprimed?

---
---
July 1st, 2011 02:23 AM

Ive been working on the boat again might be in the water soon..Put in the new floor with pour in foam under it as original.Painted splash well and the inside of the boat with rustolem gray then carpeted and installed the new steering setup.

---
---
July 1st, 2011 02:36 AM

Then i got the seats in and began work on the motor i removed and cleaned the varnished carbs purchased a new glass bowl for the fuel pump and i replaced all of the old fuel line as it was brittle.My next step is the impeller changeout but i have ran into a problem i will soak it overnight and see if it can break free.

---
---
July 17th, 2011 10:04 PM

I splashed the boat this evening. after swaping my original engine for this "parts " engine and cleaning its carbs points the mouse nest out of the waterpump area. I was then able to get it to run good enough on the hose to take it to the lake it runs great with good power but i found it kind of grinds into drive from neutral then it will bump 1 more time as i get on the throttle anyone know what this may be? but after that it runs great on plane and it idles good too.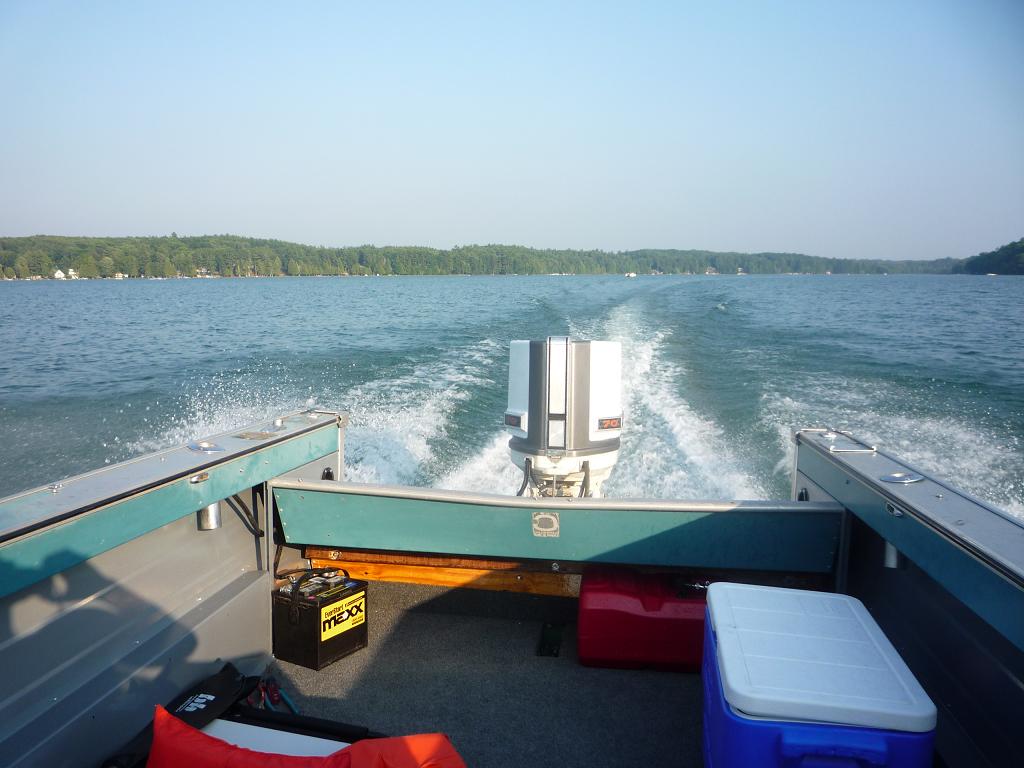 ---
---
Owners' copyrights apply to all images.