19ft 1977 AeroCraft Mustang
77 Browning Mustang W/ Trailer I/O Runs Great, Serviced 19' Open Bow - $1298
(Mishawaka, IN)
__________________________________________________________________

Date: 2011-06-08, 11:30AM EDT
__________________________________________________________________

Up for sale is my 1977 Browning Aerocraft Mustang 1 19' Runabout Boat
with 1977 Shore Land'R Trailer.
All maintenance has been performed this spring and the boat is ready to
go: New plugs, wires, cap, rotor, points, fuel filters, fuel lines, and
more. Engine and all outdrive oils have been drained and changed. We
have also installed the following new parts: Bilge Pump, Ignition
Switch, X4 New Solenoids (for tilt and trim), and more.

Boat is ready for water now.
Trailer is in serviceable condition, the tires hold air, and all lights
work.

The boat is in functional condition, and has the plus of all service
being performed this spring. However, please understand that it is a 77
and shows the wear of an aged boat throughout. Some gauges do not work
(or work sometimes) and there are various nicks and scrapes to the hull
as well as wear and small tears to seats, etc.
We have had the boat in the water twice this year and it ran fine, the
only thing we noted is that sometimes the trim switch would not
activate the trim without the key being shut off and then turned back
on. When that was done the trim instantly returned to full
functionality.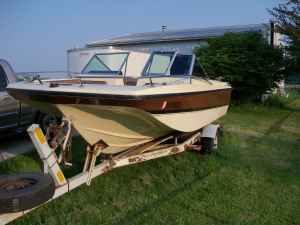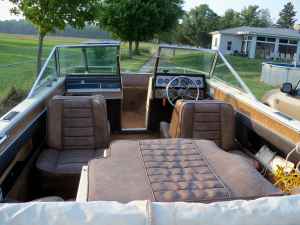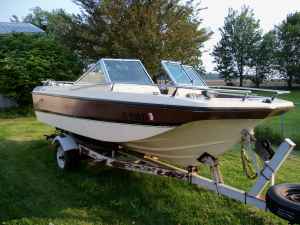 ---
---
Owners' copyrights apply to all images.