14ft 1953? AeroCraft D?
| | |
| --- | --- |
| Date: | 2011-07-14 10:26:25 |
| City: | Lake Orion? |
| State: | MI |
| Serial: | 6051 |
| Status: | fs-ended |
---
---
14 ft Aluminum Boat With 25 hp Outboard - $1500 (bay city)
Date: 2011-07-13, 6:10PM EDT
For Sale is a 1663 AeroCraft 14 ft Aluminum boat with a 25 hp mariner outboard. Boat has fish finder bilge pump, electric trolling motor, nav. lights, and four fishing pole holders. Interior has been completly redone with side cousil steering. Boat Has been completly sealed, no leaks. Trailer has new lights, wiring, and tires.
Asking $1500 and open to resonible offers. Also may consider selling motor alone.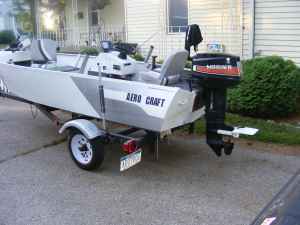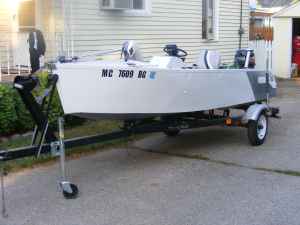 ---
---
14 ft aluminume boat with 25 hp outboard - $1500 (bay city)
Date: 2011-07-25, 7:12AM EDT
For Sale is a 1960 aerocraft aluminume boat with a 1988 Mariner 25 hp outboard long shaft motor. Boat is deep and stable for a 14 ft. Boat includes a trilor with newer lights, wiring, tires, and tong jack. Boat is outfitted with all needed safty equitment, lowance fish finder (new) eagle fish finder, electric trolling motor, trolling plate on outbaord, bilge pump, nav lights, new seats and interior, four fishing rod holders, all you need is a fishing pole.

Asking $1500 OBO I want this gone so make me a resonable offer and take it home today!

Call (989)327-4348
---
---
!4ft Aero-Craft AluminumBoat - $1600
!960 Aero-Craft Aluminum Boat with 25 horse Mariner outboard 2 trolling motors one manual and 1foot control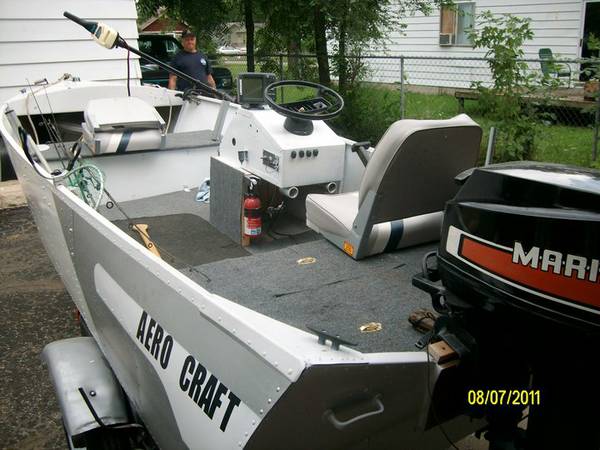 ---
---
We have listed our much loved AeroCraft on ebay for sale.
For sale is a vintage aluminum AeroCraft fishing boat. The length is 14 foot, the beam is 60", the depth is 25" and the weight is 130 lbs. This boat is registered in the state of Michigan and has a tag that is good until 2018. The Registration says that the boat is a 1960 Aerocraft, but from the serial number (6051) and the D (for Deluxe) clearly stamped on the tag, this boat is most probably a 1956, 1957 or 1958.
This boat comes with the following equipment: boat cover, Highlander two wheel trailer, two fish finders, new in 2015 six gallon gas tank, new in 2015 battery, Johnson trolling motor with foot pedal, Quicksilver throttle control, fishing life jacket, fire extinguisher, and two padded fishing seats.
The boat is clean and has no visible rust. The previous owner painted it white and silver. The previous owner also drilled a hole straight thru the AeroCraft tag to mount the trolling motor ( ? plain dumb). However, you can still see the beautiful AeroCraft wings and clearly read the serial number and model number D on the boat tag. See the picture.
We bought this boat 2 years ago and at that time it was hooked up to a 25 hp Mariner engine. We had to sell the Mariner to pay one college bill, and now the boat is going for sale to pay for another college bill. It does still have the trolling motor that you can get around with. If you have a Mariner or Mercury outboard you can hook it up to the Quicksilver throttle, steering wheel, and gas tank.
We have received many compliments on this unique boat. AeroCraft boats were made in St. Charles, MI and here is a bit of the history from the AeroCraft website:
"All seams are caulked and fastened with airplane rivets, closely spaced. There are no floorboards to add to the weight, passengers walking right on the bottom, which is covered with non-skid paint.
All this makes for easy maintenance, and permits the company to guarantee it's products against puncture for 20 years, tops among all companies making this type of boat.
When spring comes, all one has to do is put his aluminum boat in the water. There's no scraping, caulking and painting. Under each seat is Styrofoam to provide buoyancy. "
Let me know if you have any questions, we will answer to the best of our ability.
This boat is sold As-Is with no warranties or guaranties. We are able to deliver to within 200 miles of zip code 48360 for no extra charge.
---
---
Owners' copyrights apply to all images.