14ft 196x AeroCraft T-15
bigdog2594
Subject: AEROCRAFT MODIFICATIONS
PostPosted: 4/17/2012
I can't believe it is finally my turn. I have been reading this site for well over 2 years in anticipation of when it is my turn to get a boat and mod it. Last July I bought a 14' Aerocraft, year is late 50's to mid 60's, can't remember the exact year right this second. I have a 1974 Sears Gamerfisher 15hp motor. Boat is great structural condition, with absolutely no leaks. I fished the boat from Late July through September of last year. My plans are/were to:
Paint inside
Shine outside
Put in Flooring and carpet
Deck rear and front
Add storage
Add main and led interior lights
Add bilge pump
Add bow mount trolling motor
Add depth/fish finer
Add Rod Holders
It is finally warm enough here in Upstate New York to finally get rolling. I have picked up a lot of the stuff needed over the winter in anticipation of the mod. Here are the picture of the start through painting. Tonight I will grab some 3/4 oak plywood and get the new transom cut (inside and outside piece) and prep it for the Thompsons Water seal. Any suggestions or pitfalls, please feel free to shoot them at me!
---
---
| | |
| --- | --- |
| Date: | 2012-04-18 01:43:55 |
PRIMER - RUSTOLEUM SELF ETCHING PRIMER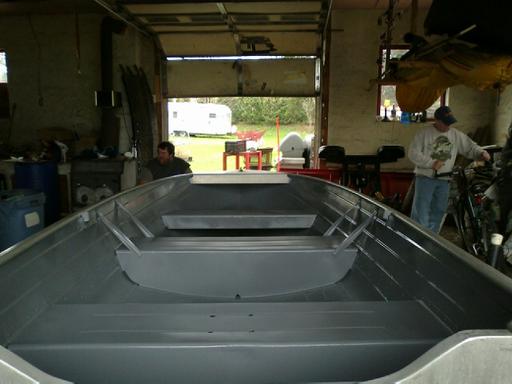 PAINT - RUSTOLEUM ENAMEL - SMOKE GREY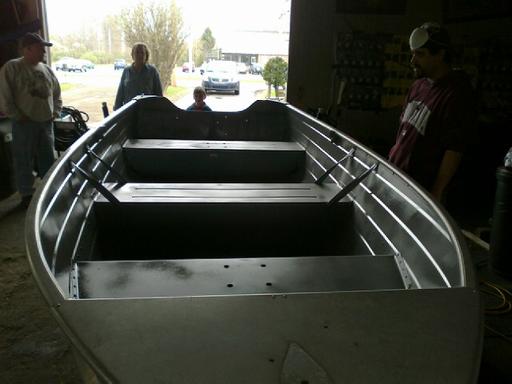 ---
---
Well it is about 99% done. First mod. Let me know what you guys think and how I can improve on the next go around.

---
---
Owners' copyrights apply to all images.