St. Charles Area Museum's 18ft 1958? AeroCraft B-18??
Museum seeks information about donated aero craft boat
BY MANDILEE LOOMIS STAFF REPORTER
ST. CHARLES — Jim Palmer, president of the St. Charles Area Museum, is looking for information about an aero craft boat, built in the early 1950's that was recently donated to the musuem.

Palmer said the 17 foot "cutty cab" was built around 1952. He spoke with family members of the former owners of Harwill Inc. a company that built aero craft boats in St. Charles from 1946 until about the mid 60's. These local experts told Palmer the boat contains all of its original parts and cosmetics.

Palmer is looking to verify further information about the boat from anyone who worked at Harwill around the time it was built, or anyone who has any pictures.

The cab will be stored during the winter and on display for visitors during summer months. So far the item has garnered a lot of attention from residents, Palmer said.

The boat needs some cosmetic restoration more than anything else in the way of new seats, steering, etc., noted Palmer.

"With enough volunteers, it's possible we might restore it one day," he stated.

Anyone with information is advised to call the St. Charles Area Museum, 603 Chesaning St. at 989-865-9115, and leave a message.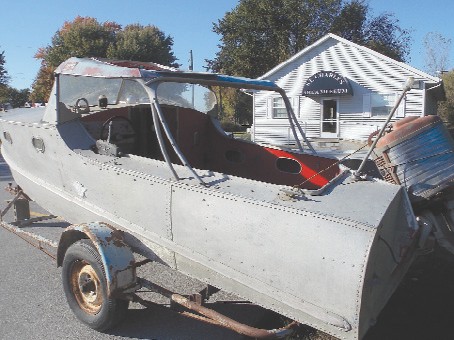 Museum members are seeking information about this circa 1950's aero craft boat that was donated to the St. Charles Area Museum recently. (TCC Photo by Mandilee Loomis)
---
---
| | |
| --- | --- |
| Date: | 2014-08-08 19:20:22 |
---
---
Owners' copyrights apply to all images.