18ft 1972 AeroCraft Monte Carlo
1972 Browning / Aerocraft Monte Carlo - $2600 (Plainwell)
1972 Browning / Aerocraft Monte Carlo (18 ft.) with 1974 115 Hp Johnson Outboard. The boat is set up for trolling and is equipped with a Uniden Marine Radio, Lowrance Depth/Fish Finder, Fishhawk Thermo Troll 800, (2) Old style manual downriggers, and is set up for a kicker motor. Has new tires and rims on trailer, new battery, new spark plugs, coils, plug wires, and rectifier. Motor runs good. Being sold as is for $2,600.00 o.b.o. Local Inquiries Only.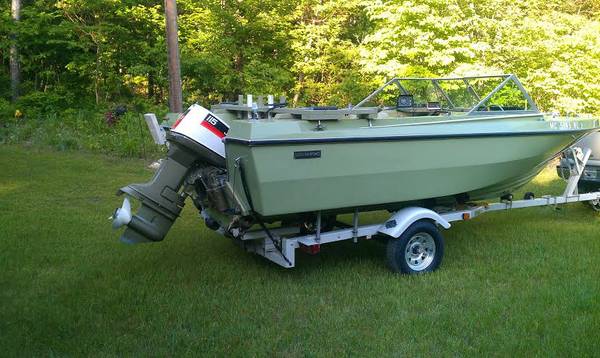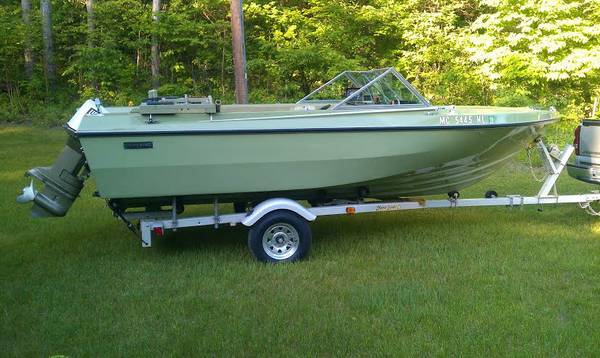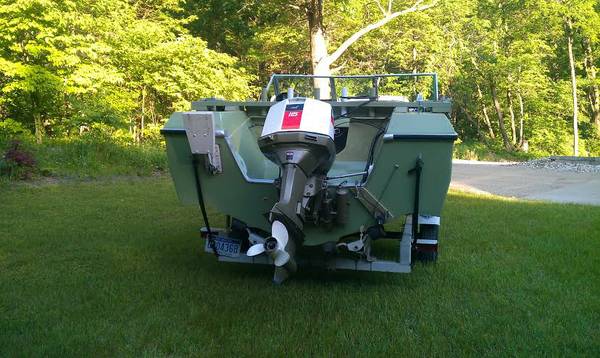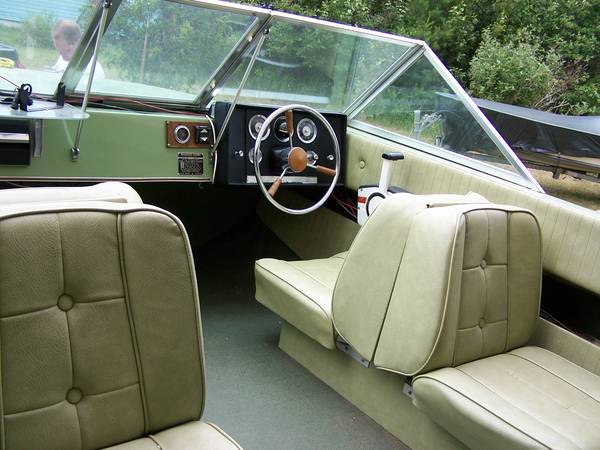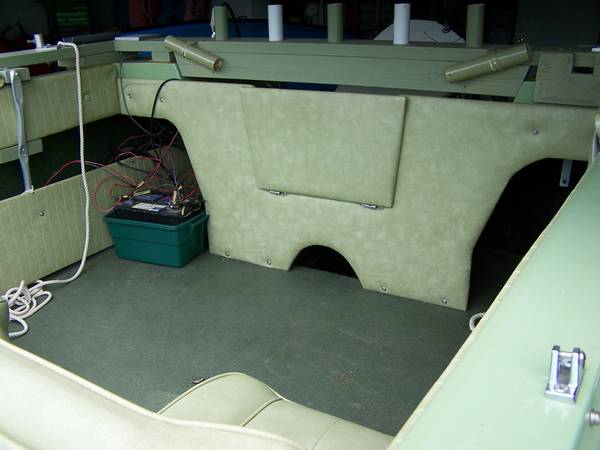 ---
---
Browning 18' Aerocraft 1972 GREAT - $3750 (Close to Texas Corners)
18' Browning Aerocraft DEEP V, with Johnson 115 (1974). Power trim tilt.
This was a BARN FIND for me, (sat covered in shop about 20 yrs) and its to big and NICE for me to use everyday. It had sentimental reasons for my purchase, but just not a boat I want for small lakes.
I ran it today with water muffs, started right up and runs fine.
This boat does not even have a water line or spot on it. Trailer is 9 of 10 condition also with new rims and tires. Boat and trailer Washed and cleaned after each use as I was told, I believe it.
Motor has been gone thru by outboard mechanic last year, new plugs, coils and rectifier and wires, runs great, I bet it doesn't have 100 hrs. Maybe less than 50.!
It does NOT have the rear outrigger mount attached, But I have it if you want. as shown per the pictures.
This boat should be run at parades of 45+ yr old boats, must see to appreciate.
I have clean registration for boat and trailer.
Pretty firm on price at $3750 so serious buyers please.
Phone or Text is best, no email - Don't need help selling.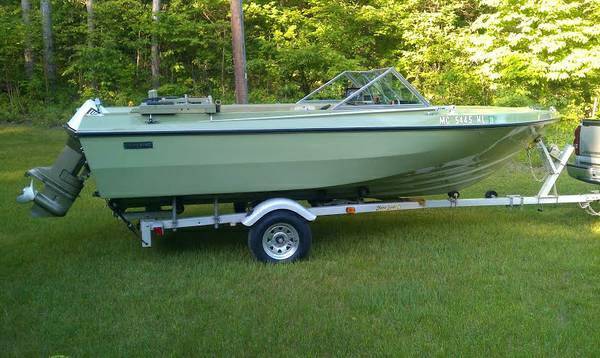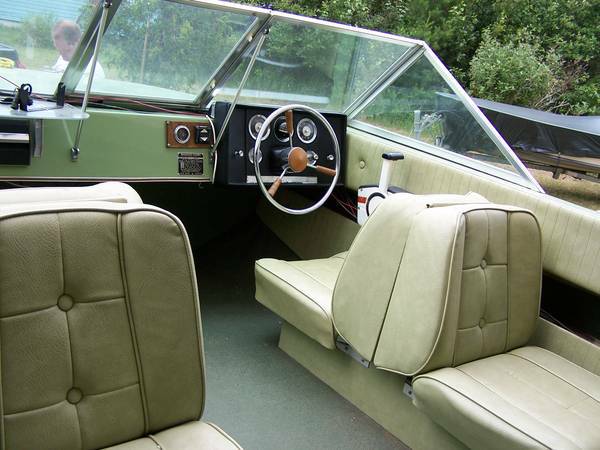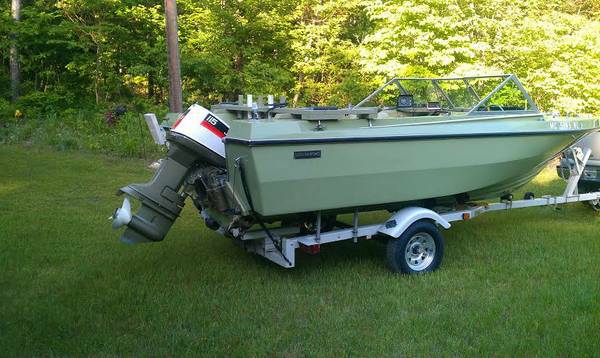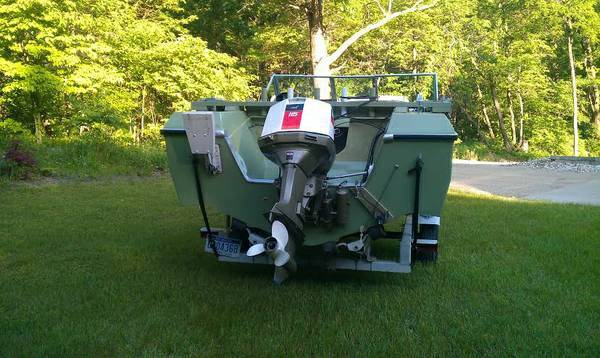 ---
---
Browning 1972 VERY NICE - $3000
Great shape! 1972 Browning Aerocraft, with 1974 Johnson 115, Power trim/ tilt.
Must see! Not a water marks on this boat, cleaned and under roof after every use. Johnson 115 runs great. Was a Barn find. this boat sat for 19+ years then about 6 yrs ago started to get used 5 -6 times a yr. Shines like a 1 yr old boat. Original interior, no rips in seats, floor has couple 2-3" peeled vinyl areas, otherwise clean. No soft spots, very few spider surface cracks anywhere.
This ones to big and to nice for my lake use.
Ran it Aug 1st, maxed at 36 mph and idled smooth. Paint is barely off the prop tips and skeg.
The 12V lighter/map light even works on this 43 yr old GEM.
hard to imagine it has 100 hrs on motor. New plugs, wires, CDI boxes last yr.
Gear oil changed July 4. Old oil was clean.
New wheels and tires on great trailer, no rust.
registration on hand for boat and trailer,
NADA says $3850, Pretty firm on the $3000 asking price. Might trade for equal value fishing boat.
More pics on request.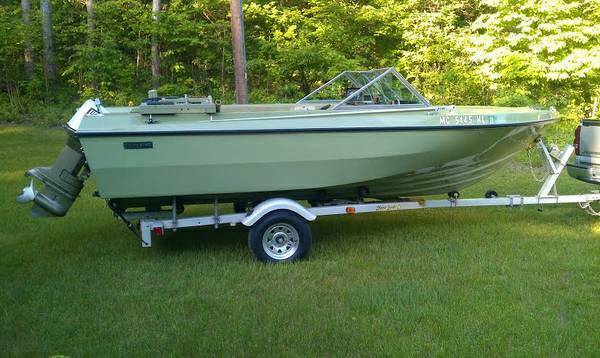 ---
---
Excellent Browning 18' / 115 Johnson - $3000
1972 Brwoning Aerocraft (deep V) w 115 johnson - Wonderful shape, no water lines on boat or motor. 9/10 condition, everythings works, great trailer new wheels and tires.
There is no radio - fishfinder as pictured.
I looking for a 14 -16 ft fishing boat (8 - 50 hp). Alum prefered,
I'm asking $3000 or value close trade on fishing boat.
---
---
Browing 18' Deep V w/ 115 Johnson - $2500
1972 Deep V Browning Aerocraft 18' with 1974 115hp Johnson. Low hours, No marks on it.
8 of 10 original cond. very solid, have the wooden outrigger assembly to go with it.
Its got to go, I hate to leave under tarp outside but will not use it this year and have to move from barn.. email is best. $2500 as is where is.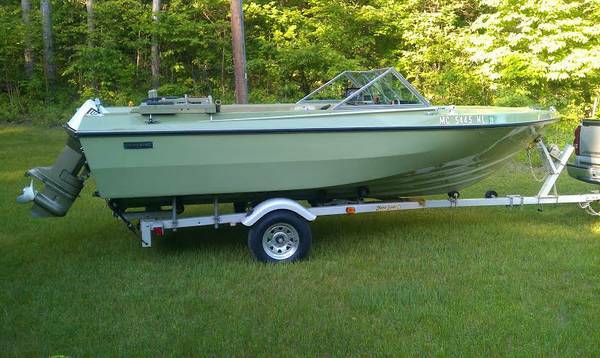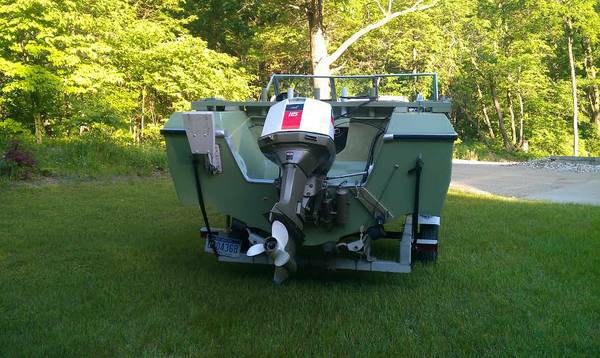 ---
---
Owners' copyrights apply to all images.