History of Harwill Incorporated
Parent company of Aero Craft Boats

This section of my website is dedicated to Harwill and all it's former employees that worked for my dad (Tony Harkins) and my uncles. I can recall many Saturdays going with my dad down to the "boat works" and watching him make sure everything was secure.

Date: 22 April 1956

Source: The Flint Journal

Page 67

Subject: Aluminum Boat Pioneers in St Charles
Decade Old

Author: Harold Bastien (Journal Outdoor Writer)

There are no conveyor assembly lines in the plant of Harwill Inc., at St Charles, where Aero-Craft aluminum boats are made-at a rate of 200 a week.

All the parts, and the completed boats themselves, are so light they are moved by hand, by women as well as men.

It is this lack of excessive weight that has bought about the tremendous boom in aluminum boats in the ten years since Harwill built the first production craft made of the light but tough metal.

This year may be the biggest for the boating industry, and Harwill, which employs 100 residents of the little Saginaw County town, expects to capture it's share of the market. Its large stockpile of winter made boats and canoes is dwindling rapidly as huge loads leave the plant each day.

There are many reasons for the popularity of aluminum boats, with lightness at the top of the list. Durability is a big factor. The only wood is on the transom, with plates of marine plywood riveted inside and out to accommodate an outboard motor, or motors.

All seams are caulked and fastened with airplane rivets, closely spaced. There are no floorboards to add to the weight, passengers walking right on the bottom, which is covered with non-skid paint.

All this makes for easy maintenance, and permits the company to guarantee it's products against puncture for 20 years, tops among all companies making this type of boat.

When spring comes, all one has to do is put his aluminum boat in the water. There's no scraping, caulking and painting. Under each seat is Styrofoam to provide buoyancy.

Harwill, Inc. had it's beginning in the brains of three men- L.B. Harkins, Leon Harkins, and Doug Wiltse. All had a background in aircraft sheet metal design and fabrication.

They chose to incorporate because it was necessary to sell stock to raise enough capital to begin operations. The names of the three men were combined to form the corporate name, Harwill, and the new company came into being March 4, 1946.

A form letter was sent to about 50 villages in Michigan, asking about what concessions could be granted to induce Harwill to locate it's plant to the best advantage. The letter stated the company needed a building and that it planned to employ about 10 persons within a year.

The best offer was made by St Charles, which had an abandoned water plant which could be converted into a factory.

During the conversion period, Harwill's founders designed Aero Craft model A, and a pilot model was ready for testing early in June 1946. After a few minor changes the model was put into production early in July, and the first aluminum boats began to roll off a production line, the beginning of a brand new industry.

By the fall of 1946 the demand for the new boat far exceeded Harwill's capacity. Many of the manufacturing operations were being performed outdoors, and winter was approaching. A new issue of stock was offered and the additional plant space and equipment permitted an increase in production from 20 to 50 boats a week.

Only a year later, Harwill reached a new milestone when it began production of it's 18 ˝ foot Model JCC, America's first outboard cruiser to come off an assembly line.

Harwill has expanded continuously during its first decade. New models have been added each year and now there are 29 listed in the company's catalog, ranging from easily handled nine-foot runabouts with a weight of 65 pounds, to the big cabin cruiser, which weighs 585 pounds. In between are two canoe models weighing 67 and 69 pounds, and boats of various lengths and styles and weights.

Although pleasure boats are the company's principal product, it has been used for production of motor freight truck trailers, aquaplanes, toboggans and military production of aluminum power and assault boats, parachute packing tables, mess tables, folding tables and ship cabinets.

L.B. Harkins is the General Manger. His brother, Leon, is Production Manager and Treasurer, and Doug Wiltse is the Secretary. A.S. Brennen, Saginaw insurance executive is the President, serving in an advisory capacity, and is active in the company's financial relations. L.B. Harkins had experience in aircraft conduction with United Aircraft and Briggs Aircraft in Detroit and Dow Chemical Company in Midland Michigan. He is the author of "Magnesium Fabrication", published by Pitman Publishing in 1947. Wiltse was his co-worker in Bay City Michigan before Harwill was organized. Leon Harkins was manager of the Williams Form Engineering Company in Grand Rapids.

[Note…Reprinted exactly as written, with the exception of grammar corrections.]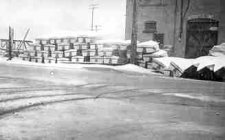 Harwill Incorporated, 1946. This is the old waterworks building, later used as the Halloween Haunted House.
Founded originally by LB Harkins, Leon Harkins and Doug Wiltse, additional capital was raised in 1948 by a stock offering and several local businessmen and a third brother, Tony Harkins invested. Local insurance agency owner, AS Brennan became president by virtue of his investment, while LB was General Manager, Leon Harkins became Treasurer and Tony Harkins became Plant Superintendant. A fourth brother, Mort Harkins was the fiberglass manager.
New facilities were built in 1947 on an eight acre plot at 400 Water Street to specifically manufacture both aluminum and fiberglass boats and various items for the US Government.
In the early part of 1969, the firm was sold to Browning Arms and became the Browning Marine division. Operations continued until the economy and other factors forced them to cease operations in mid July 1974.
Shortly thereafter, the operations were sold to Fuqua Industries and Browning Aerocraft restarted operations .
In 1979, operations were moved to lower cost Indiana but soon thereafter, the company was liquidated.
In 1980, a different company moved operations to St Charles named Thompson Boats. For approximately twenty years, it operated before shutting the facilities both on Water Street and a newer facility located north of St Charles on North Saginaw Street.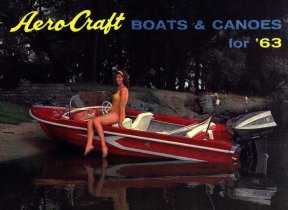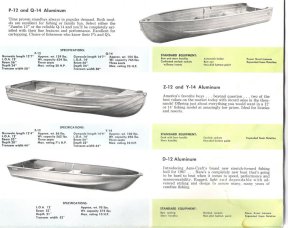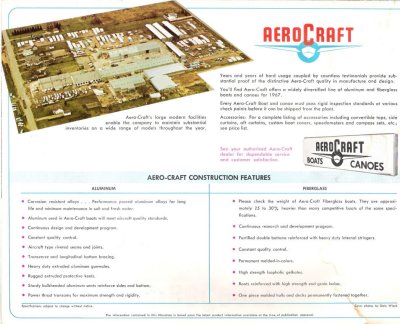 Aluminum offerings. Aerocraft matches. Operations at it's peak, late 1960's.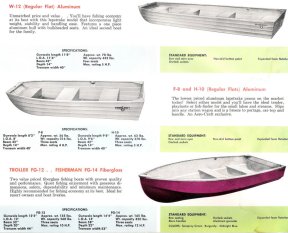 Aluminum offerings.
Additional pictures